SBC 9302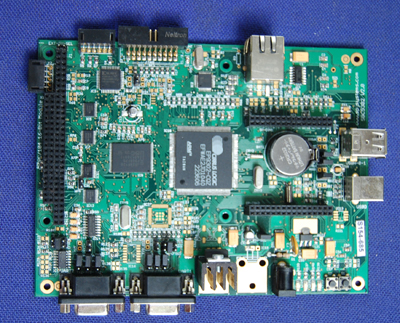 SBC9302, an economical and indigenous replacement for expensive "embedded computer boards"can directly connected to PC/104 interface, almost any kind of PC/104 compatible I/O card. This combination gives us a lot of processing power + I/O - hence it is perfect solution for Industrial Automation.
The board also provides lot of non-volatile storage options: you may connect a pen-drive to USB host interface. USB pen-drives are readily and cheaply available with ever growing capacities. Alternatively, you may connect very cheap SD memory card directly to the on-board SD-card interface.
The USB host interface can be also used for connecting keyboard and mouse. LCD can be as well connected with a small add-on module. With this, GUI based applications can be easily Developedd. Since the board supports Linux, you may use a development tool like QT to write GUI applications. Thus the board is suitable for GUI applications - for example Medical Instrumentation, Human Machine Interfaces and so on.
SBC9302 Specifications:
2.1 Hardware:

ARM9 processor (EP9302) @ upto 200 MHz
On-board 8 MB Flash, 32 MB SDRAM
Optionally, upto 16 MB Flash and upto 64 MB SDRAM
2 UARTs with option for RS232 / RS422 / RS485 / TTL (3.3V level)
RJ45 Ethernet LAN interface
2 USB Host interface ports
1 USB device interface port
PC/104 connector
5 channel 12 bit ADC
Upto 23 GPIO (3.3 Volts TTL)
RTC with battery-backup
SD-Card interface
Standard 20 pin JTAG interface
Wall type power supply included.
One serial cable and one USB cable included.

2.2 Software:

Runs embedded Linux.
Users may write stand-alone or Linux based applications to run on this board.
CD contains sample programs.

Deliverables:

SBC9302 board with specs as above.
Power adaptor.
One serial cable.
CD with Linux based sample programs.
User's manual: (Revision 1.2, updated on 25 March 2008, approximately 3.2MB) Provides detail information about how to write applications for this board, how to program the board and run your application..