Altio-S1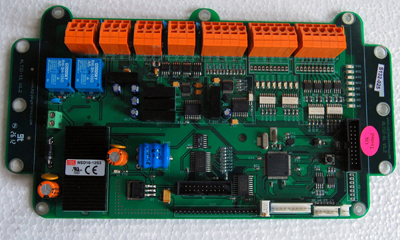 Altio-S1, is industrial grade controller and data logger card, specially includes controlling a process, data logging, data storage, communicating with other devices and industrial grade temperature working. The details of the ALTIO S1 are as given below:
Digital Input: 4/8 Optically Isolated Digital Inputs. Accepts 12V / 24V DC.
Digital Output: 4/8 Optically Isolated Digital Outputs. These are 12V/24V DC outputs. Can source up to 500 mA.
Analog Input: 2/4/8 Analog input channels. ADC with 16 bit resolution. Accepts 0-10 / 0-5V/4-20 mA (Factory settable)
Analog Output: 4 Analog outputs with 12 bit resolution
Relay outputs: 2 Relay outputs to drive buzzer/hooter etc.
LCD: 128x64 Monochrome Graphics LCD.
Keypad: Provision for 4x4 Matrix keyboard
Real Time Clock (RTC) with battery back up
Data Storage: 2MB of flash provided for on board data storage.
Communication :

One Isolated RS485 with max speed of 115.2 KBaud
Two RS232 with max speed of 115.2 KBaud
CAN (Optional)

On board Temperature sensor.
ARM Cortex M3 Processor, running up to 100 MHz, 512 KB Flash, 32 KB SRAM
Library routines provided for reading digital inputs, generating digital outputs, reading analog inputs, generating analog outputs, initializing graphics LCD, writing text on graphics LCD, plotting pixel on graphics LCD, etc.