NXP LPC4357 Evaluation Board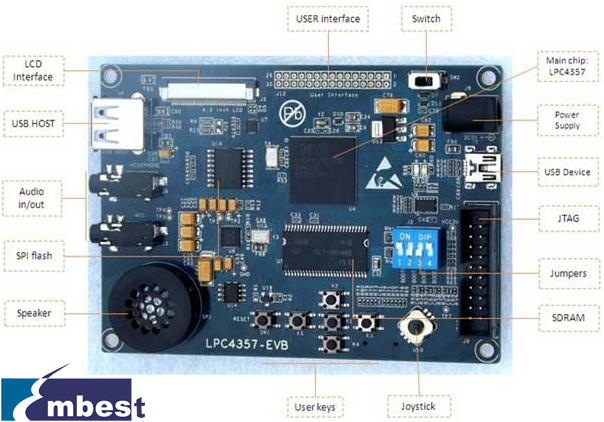 The board is built around the NXP LPC4357 which delivers a versatile dual-core configuration using an ARM Cortex-M4 MCU with an ARM Cortex-M0 as a co-processor. This is the first ARM Cortex board at this price point to deliver dual-core performance and media interface features including 1MB of dual-bank Flash, high speed USB host and device, an LCD interface, SD card and more.
This development board includes peripherals well-suited for development of multi-media, audio, medical, industrial control and motor control applications and provides ideal rapid prototyping opportunities for hobbyists and game console designers.
Hardware Specifications:

The connectors on the LPC4357 evaluation board provide easy access to many of the LPC4357's on-chip peripherals.
LPC4357,256 pin BGA

Up to 204 MHz Operation
32-bit ARM Cortex-M4/M0
Up to 1MB flash
136 KB flash

External Flash

Spansion 256 MB QSPI flash
32 MB external SDRAM

Two USB Interface

Two USB ports, one HS (High speed USB host) port and one FS (Full Speed device) port

LCD interface for a QVGA LCD

4.3 inch LCD module is sold as standard configuration,480*272 TFT , color LCD display.

Audio Interface

Audio Codec and audio jacks (Headphone interface and MIC interface).

JTAG Interface

20-pin Cortex debug interface

Micro SD Card Connector

A Micro SD Card connector for developing applications requiring access to Micro SD Cards.

Switch

Input switches, Joy stick, LCD
ISP switch/reset switch
Boot select switch
USB host power switch

Accelerometer

3 axis accelerometer from Analog Devices

Advanced configurable peripherals conclusion:

State Configurable Timer(SCT)
Serial General Purpose I/O(SGPIO) interface
Two High-speed USB controllers
Ethernet, LCD, an external memory controller
Multiple digital and analog peripherals